As an alternative to the central venous line (CVL) or the percutaneous implantable chamber (PIC), Midline catheters (long peripheral venous catheter, also known as "semi-long") and PICC-line (peripherally inserted central venous catheter) have until now been placed in a hospital setting. In order to improve the management of patients requiring prolonged intravenous treatment, the anesthesiologist, Annouck Perret Morisoli, had the idea of inserting these catheters by ultrasound, in the doctor's office or at home. A first in Switzerland!
She explains to us her path towards the setting up of this innovative service.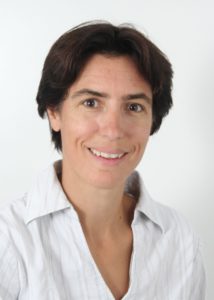 Introduce yourself in a few words
I am Annouck Perret Morisoli, an anesthesiologist. For 10 years, I worked as a senior physician at the Valais Hospital. Today I work for a company that provides mobile anesthesia in medical practices (ed. note: office-based anesthesia). During my work in the hospital, I acquired a solid experience in the use of ultrasound. I used it to numb nerves during surgery (loco-regional anesthesia). But it can also be used to place midline or PICC-line venous lines.
In the hospital, we put in many so-called "difficult" venous lines. These lines are made to stay in the patient's vein for 4 to 8 weeks or more. Often these are antibiotics administered to patients at home. It often takes two to three days for this to be done in a hospital setting.
How did your project come about?
It was my change of job that allowed me to realize this idea, which had been germinating for several years. My new bosses at Mobile Anesthesia Care Sàrl supported my approach and I was able to acquire a portable ultrasound machine, allowing the safe placement of these lines.
In Switzerland today, no one has yet launched a service for placing difficult venous lines under ultrasound, at home. In the United States, on the other hand, this type of service is highly developed.
I wanted to start my project in Valais, because that's where I live, which gives me the flexibility to be available if I need a venous line. We are in the process of extending the project to the Lausanne region. I have availability at the Savièse Medical Center, which is a more secure environment, as well as at our company's premises in Lausanne. But in my ideal, this type of service is performed at home, at the patient's bed. I really think that it is the doctor who should go to the patient's bed and not the other way around.
Why do you think this service does not yet exist in Switzerland?
First of all, maybe nobody has thought of it? Secondly, as an anaesthetist, when you work in a hospital, it is rare that you leave it, so it makes little sense to consider providing services at home. Thirdly, I can afford to set up this project on the side, but the volume of catheters to be inserted is not sufficient to live on. I am convinced that the future is here: care will move from the hospital to the home. My project fits perfectly into this vision, with the ideal of offering patients a quality service.
What phase of the project are you in?
I am in the project's launch phase. I have already noticed that the first exchange with health professionals on this subject is very positive. I need to continue my networking to make this new alternative known to treating physicians, CMS, etc. Diverting the patient's trajectory is not easy. Health care professionals are often reluctant to recommend someone outside the hospital.
I recently obtained that patients who leave the hospital (editor's note: Hôpital du Valais) with this type of pathway can receive my contact information.
How can patients be referred to you?
What I expect from the caregivers who send me their patient is that they call me so that we can choose together what is best for the patient, depending on his or her situation and the urgency of the procedure. If the patient can come, he or she comes to the Medical Center in Savièse or to our office in Lausanne. If this is not the case, I go to the patient's bedside.
To document the procedure, I have described everything in an operating protocol: how the surgical disinfection is carried out, how the patient is covered with sterile drapes, etc. I also have an information course about these devices and a document describing the dressing change.
There are no regulations that require these venous lines (PiCC-line and Midline) to be placed in a specific location in Switzerland. In hospitals, this is done in the recovery rooms of operating theatres. However, it is necessary that the procedure strictly respects the rules of sterility with a surgical disinfection and an installation according to the rules of art.
How is the reimbursement of this new service?
I had difficulties in chaining (editor's note: groups of services to perform a certain procedure, in other words: Tarmed points). The Tarmed points were made 10 years ago. Ultrasound hardly existed, and Midline and PICC-line even less. I called the person in charge of Tarmed in Bern who could not give me any information. Finally, it was a friend who works in the insurance industry who helped me to finalize the chaining.
Learn more: Discuss with Annouck Perret about this innovative service of home venous line insertion by ultrasound!