Created by the HES-SO Valais-Wallis, the University of Lausanne (UNIL) and the Centre hospitalier universitaire vaudois (CHUV), the Sense is the new innovation and research center that brings together applied, fundamental and clinical research activities to develop and promote the study of sensory sciences.
The mission of the Sense focuses on the creation and dissemination of knowledge about the senses, cognition and human behavior for the benefit of society. "We study the same fields, but with a different perspective. It was both logical and relevant to join forces in order to create a vast intercantonal and interdisciplinary collaboration for the study of the human senses", says Prof. Olivier Lorentz, Professor at the HES-SO Valais-Wallis and Executive Director of Sense.
Read the full press release (in French) : TheSense_Communiqué_DEF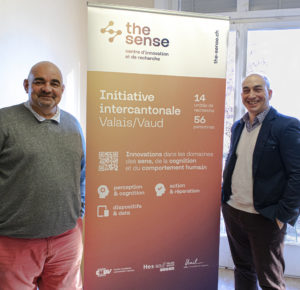 Photo caption: on the left Olivier Lorentz – Executive Director, The Sense,
on the right Micah Murray – Scientific and Academic Director.
Contacts and information
More:  www.the-sense.ch