Sustainability is not yet a panacea in the health sector. But awareness of the impact of health activities on the climate is high and solutions and innovations are developing. Sustainability also refers to better accessibility of health care, but also to the resilience of the system. These are the main findings of the 10th edition of the Digital Health Connect conference, which took place Thursday at the Clinique romande de réadaptation in Sion.
Organized by Swiss Digital Health and The Ark Foundation, the event was attended by around 130 people, mostly healthcare specialists. "This anniversary edition allowed us to highlight innovative approaches that make the healthcare system more integrative and sustainable. This sustainability is increasingly present in healthcare, knowing that this sector represents between 5 and 8% of Switzerland's total carbon footprint," emphasized Sébastien Mabillard, president of Swiss Digital Health in his introduction to the conference. "We talk about sustainability and digital transformation, but it is important to first understand the needs before bringing in algorithms or other elements," said Laurent Sciboz, director of the HES-SO Valais-Wallis computer science institutes.
Dr. Valérie d'Acremont, a tropical physician and epidemiologist, presented her vision of the health system of the future, putting herself in the shoes of a patient. According to her, this health system will place much more emphasis on prevention, with medical data "returned" to patients. The clinician is really at the heart of the health system, with extensive human interaction with his patients.
Prevention not to be forgotten
A round table discussion, moderated by Zeynep Ersan Berdoz, journalist at Le Temps and Heidi.News, then outlined some solutions for a more sustainable medicine. According to Yannis Papadaniel, head of health at the Fédération romande des consommateurs (FRC), sustainability is a floating word. "There is an ecological sustainability, but also a political sustainability to maintain, as well as an economic sustainability, with financial issues to deal with". According to him, it seems that we are reaching the end of the current system, especially with the increases in health premiums. "A change in lifestyle must allow for the implementation of systemic sustainability in society," according to Nicolas Loeillot, Innovation catalyst at CSS. For his part, Pascal Strupler, Chairman of the Board of Directors of the Valais Hospital, recalled that the Federal Council had proposed a law on prevention some ten years ago. This was rejected by the Parliament, as it was not in line with the market economy. The reality today is that there is a lack of personnel. "And without that, there is no sustainability.
The health staff is exhausted, confirms Valérie D'Acremont. "But basically, there is a loss of meaning in the work. We need to find the right balance, for example with the help of digitalization, without multiplying electronic gadgets to the detriment of human relations with patients. According to Dr. Monique Lehky-Hagen, president of the Société Médicale du Valais, the worlds of health and medicine need to be more interconnected. "People who come to digitize healthcare often do not understand the problems of the staff. Currently, it is the healthcare professionals who have to adapt to the software, not the other way around."
Sustainability as a driver of efficiency and resilience
The conference continued with a presentation by Dr. Sven Jungmann, a physician and partner at Founders Lane. According to him, people talk about sustainability, but don't act on it. "Sustainability is not a goal in itself. It's a driver of health system efficiency and resilience." We need to change the narrative and talk about resilience, so that the health system can function even in crises. "By playing on prevention, we can also decrease the use of care and medication. And also understand what can be done in a decentralized way, for example with remote consultations. This is a way to make the healthcare system smarter".
Sarah Näther, Senior Partner at PriceWaterHouseCoopers, presented a study related to the sustainability of the Swiss healthcare system. It accounts for 6.7% of total emissions in Switzerland. This is more than those caused by air traffic. "60% of the emissions come from construction and operations and 40% from daily patient care. For healthcare institutions, sustainability can be achieved through infrastructure financing (via Greenbonds), but also through energy efficiency measures, measures affecting the menus served in hospital kitchens, waste recycling, greenhouse gas limitation or supply chains with the use of electric vehicles. "There are already many projects in Swiss healthcare organizations," says Sarah Näther.
Enabling broader access to healthcare around the world
Dr. Solomzi Makohliso, deputy director of EPFL's Essentialtech Center, demonstrated another facet of sustainability: enabling greater access to healthcare around the world. His R&D center creates industrialized medical technologies in developing countries with sustainability in mind. It's about making concepts and partnerships before developing custom equipment, while planning for a business model and taking sustainability into account. "In any case, digital tools play a central role in democratizing access to healthcare in disadvantaged countries. The idea is not to do low tech, but smart tech: simple, sustainable, robust and affordable. "We are banking on universal innovation, not just for high-income countries".
Rafaël Weissbrodt, professor at the HES-SO Santé Valais, presented a study on the resilience of health institutions to climate change. "Phenomena such as the increase in diseases that were previously not very common in our latitudes, or the increased frequency of extreme climatic events will have an influence on the functioning of health institutions, on the activities of health care professionals and on their own health. The project aims to support these institutions in anticipating these changes. According to him, health care must become resilient, in order to anticipate disruptions, monitor the work system, adapt the operation to the constraints and learn from past experience.
Three innovations for sustainability… and a masterclass
The Digital Health Connect conference continued with the presentation of three concrete innovations for sustainability. The first one, Remedok, is a platform for the resale of medicines between pharmacies, allowing to avoid part of the 4'600 tons of medicines destroyed each year in Switzerland. The second, Med4Cast, brings artificial intelligence to the decision of whether or not to operate. This tool, based on the data of about 10'000 patients, allows to avoid some unnecessary operations. Finally, the Cima project, led by Benjamin Bichsel, detailed his idea to create a fully compostable garment made from renewable raw materials and meeting the requirements of the circular economy. This is a way to fight against the overconsumption of disposable clothes in hospitals.
The conference concluded with a masterclass by Professor Jacques Marescaux, founder of the IRCAD in Strasbourg. He explained how new technologies allow for the exchange of knowledge between countries. "Robotics, artificial intelligence and augmented surgery are making it possible to democratize medical procedures and thus access to medical care throughout the world. Thanks to new tools and increasingly efficient connections, it is possible to connect to the heart of the best operating theatres to gain experience and exchange know-how.
The 10th edition of Digital Health Connect was drawn live by illustrator Anne-Raphaëlle Centonze. Discover her summary below.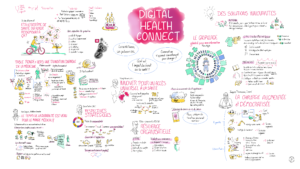 Additional information: www.digitalhealthconnect.ch
Source : Blog The Ark